On April 28, jetlagged but excited, 11 agribusiness professionals from Kenya, Tanzania and Uganda arrived at Michigan State University to participate in the Advancing Young Women Agribusiness Entrepreneurs and Innovators Professional Fellows Program. In town for a month, the fellows participate in internships, seminars, and workshops, and take trips to urban farms, food hubs and related centers throughout Michigan. The fifth week is spent at the Professional Fellows Congress in Washington D.C., where fellows will network with other fellows from programs across the U.S., present on their exchange experience and share plans for integrating new ideas into their agribusiness work at home. A number of months later, staff from MSU and internship-host organizations will visit the fellows in East Africa.
During their stay in East Lansing, fellows focus on a different theme each week.
Week 1: Innovation and Entrepreneurship
Week 2: Gender in Agri-food Systems
Week 3: Personal Development and Success
Week 4: Finance, Marketing and Governance
Week 1: Innovation and Entrepreneurship
Field Trip to Flint: Edible Flint, The Local Grocer, Women in Agriculture Development Center, EverGreen Greenhouse (Flint)
After getting acquainted with each other and MSU faculty and staff, fellows got their hands dirty in the first week at their affiliation sites, where they will intern for the month. Based on their individual goals and interests, fellows were matched with one of the following hosts: Michigan Biotechnology Institute, Michigan Department of Agriculture and Rural Development, GreenStone Farm Credit Services, Swallowtail Farm, Bee Wise Farms, Michigan Farmers Market Association, Allen Neighborhood Center, and the MSU Product Center.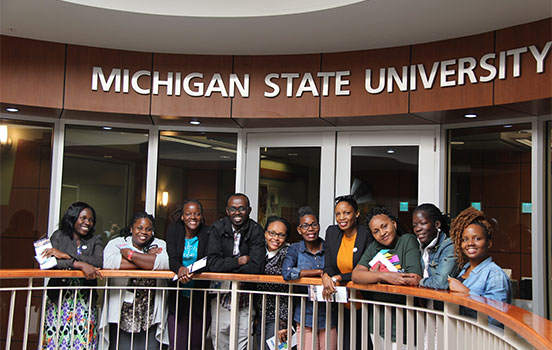 Focusing on innovation and entrepreneurship, one of the first stops the fellows made was to The Hatch, an innovation incubator at Michigan State University. Neil Kane, director of undergraduate entrepreneurship at the Burgess Institute for Entrepreneurship and Innovation at the Eli Broad College of Business, introduced fellows to the entrepreneurial ecosystem at MSU. The fellows were then guided to draft a business plan using Canvanizer, a free online tool, which prompted them to reflect on their business' value propositions, target market, and costs versus revenues. Next they visited the East Lansing Technology Innovation Center where start-ups, such as the young agritech company PhotosynQ, rent office space and build their businesses. Later, Thomas Lyons, director of the MSU Product Center, met with fellows to discuss accelerating innovation and bringing new products and services to market.
"As an entrepreneur, I think I have overcome one of the challenges of getting start-up capital—which is one of the largest challenges we face, especially as young people who have not been in the industry long," said fellow Christa Muzanila, of Tanzania. "You can look for businesses that don't require a lot of capital to start with, then you build from that. I didn't get a loan or a grant to start my business, I just saved up Tsh 500 000 [approx. $200] and focused on growing crops in a short term. I encourage my fellow young people to try and look at business in a different perspective. You can start as little as Tsh 100, you just buy something and sell it at a commission and you make money."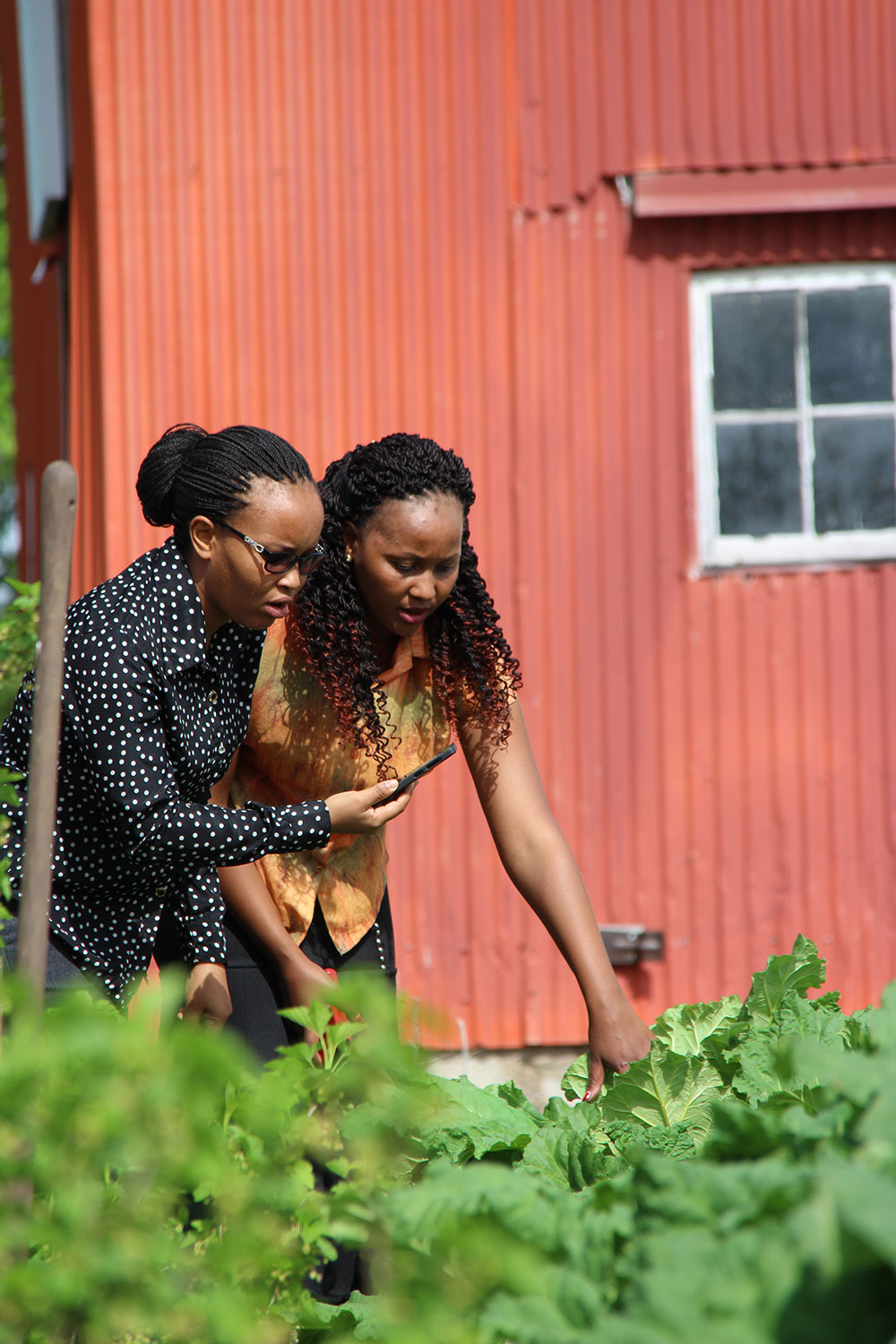 On May 3, fellows attended a talk at MSU given by Akinwumi Adesina, president of the African Development Bank, 2017 World Food Prize laureate, and Nigeria's former Minister of Agriculture and Rural Development. Adesina discussed the promise of investing in youth, mechanisms to foster women's economic empowerment, and shared stories from his personal life. Adesina's support and unwavering belief in the potential of young people motivates fellows like Marion Namukose, a 31-year-old orange farmer from Uganda.
"I'm so honored to have attended Dr. Adesina's talk. It was so inspirational. He talked about the future being in our hands—as entrepreneurs, and especially as ladies. With all the capabilities that we have, and the support from many institutions, it's just about knowing where to go and how to do it. It's all in our hands," she said. "Being a farmer, I feel like I'm in the right place, on the right path, doing what I should be doing."
To wrap up the week, fellows traveled to Flint to learn how women are transforming the local food system. Guided by Jen Silveri, director of field operations for Michigan Food and Farming Systems, fellows visited multiple sites in downtown, including Edible Flint, a demonstration garden that produced nearly 2,000 pounds of produce in 2017; The Local Grocer, which sells over 50 products from women-owned businesses; the Women in Agriculture Development Center, which supports beginning women farmers and boasts a vermiculture bin crawling with worms; and lastly, fellows stopped by EverGreen Grenhouse, part of the Genesys Health System, that's bursting with fresh flowers.
In addition to exploring various sites, and learning about their business models and services to the community, the fellows got into a deeper conversation over lunch at The Local Grocer. There was a shared acknowledgement of a bias that seems to play out in communities in East Africa and Michigan: women often are not taken seriously as famers, or agribusiness entrepreneurs.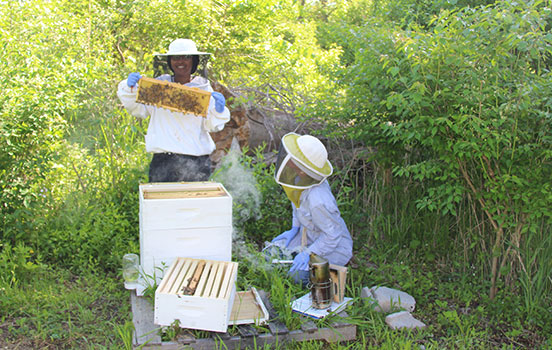 Erin Caudell, a farmer and co-owner of The Local Grocer, shared how she's finding ways around that.

"We have used no traditional methods in financing or capital to do any of the things were doing, because they tend to favor white men. I haven't seen any programs that are specifically for women," said Caudell. "Part of why I'm involved in Women in Ag is because the support group—having other women who are going through the same struggles as you and finding resources and sharing resources amongst each other is so important."