During the May 2018 convocation celebration, Michigan State University presented two prominent African leaders with honorary degrees in their respective fields. Akinwumi Adesina, president of the African Development Bank and Nigeria's former Minister of Agriculture and Rural Development was presented with an honorary doctorate of agriculture. Albert "Albie" Sachs, anti-apartheid activist and former justice on South Africa's Constitutional Court, received an honorary doctorate of law. While on campus, each held a series of meetings and discussions among faculty, staff, students and visitors related to their areas of expertise.
Akinwumi Adesina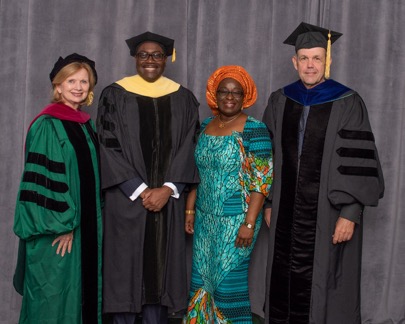 A respected economist and advocate for farmers and economically marginalized Africans, Adesina continues to have a transformative impact on agriculture and financing in Africa. Before taking the helm at the African Development Bank, where he continues to prioritize gender equity and the cessation of poverty, Adesina served as Nigeria's Minister of Agriculture and Rural Development. In that role, he implemented a cell phone-based wallet system that combats corruption and streamlines distribution of government subsidies to farmers for the purchase of agro-inputs. Before being nominated to serve as minister, Adesina held leadership roles in the Alliance for a Green Revolution in Africa and the Rockefeller Foundation. In recognition of his profound impact on food security and his innovative approach to financing, Adesina was awarded the 2017 World Food Prize, which came with a gift of $250,000—money that Adesina pledged to support youth in agriculture. The son of a Nigerian farmer, Adesina knows the opportunity that lies within Africa's open land, and has improved livelihoods for millions. Read more about Adesina's visit.
Albert "Albie" Sachs
Prior to Sachs rise as a well-known human rights defender and a justice on South Africa's Constitutional Court he worked in the trenches with fellow activists. At age 17, he participated in the Defiance Campaign, the first large-scale, multi-racial mobilization against systemic discrimination. A few years later, Sachs earned his law degree and began defending apartheid opposition leaders—work that ultimately led to his own arrest and imprisonment. After spending months in solitary confinement without trial, Sachs went into exile in England. In 1988, he was the target of a car bomb and suffered the loss of him arm and sight in one eye. This near-death experience prompted Sachs, who had been working as a professor, to recalibrate his focus and dedicate himself to a new democratic Constitution of South Africa. Sachs went on to serve on the Constitutional Committee and was later appointed by Nelson Mandela to the Constitutional Court. While serving as a justice, Sachs played an influential role in a landmark case that established the link between equality and dignity. Read more about Sachs' visit.